---
HackSat One Launch
HackSat One is due to launch on 9th December 2013 as part of the NASA CRS-3/ELaNa 5 mission. The launch will be from Cape Canaveral Air Force Station using a SpaceX Falcon 9, a two stage liquid oxygen and kerosene rocket. The primary objective for this mission is resupplying the International Space Station (ISS), so the initial orbit of HackSat will be similar to the ISS. The HackSat launch will be on the Falcon 9 v1.1 variant. The Falcon 9 v1.0 is pictured below, together with the most recent CRS launch video.
For the latest information on the launch schedule, see under SpaceX CRS-3 on Spaceflight Now.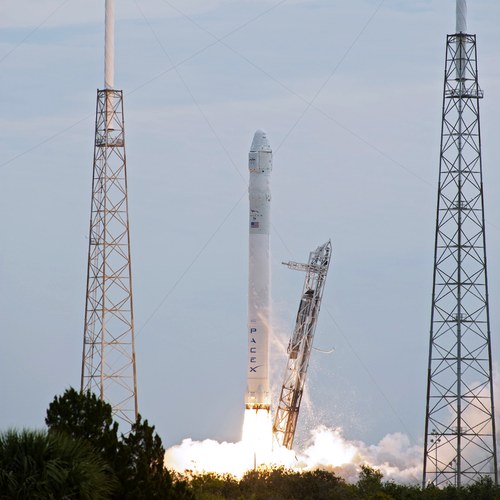 Falcon 9: Launch from Cape Canaveral Air Force Station.
SpaceX CRS-2: Previous launch in the CRS programme, March 2013.
Falcon 9 photo courtesy of NASA.
Deployment
KickSat will be carrying HackSat and 127 other sprites. Ben Bishop has created a video simulation of how the sprites will be deployed.
Deploying Sprites: KickSat spins at 10 RPM. 32 rows of Sprites deploy in ~7.5s. Sprite speed is 10cm/s.
---