---
Hella Gay
Part 8 of Across America, 08 Jan 2012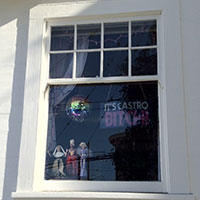 You may have noticed that during my earlier visit to San Francisco there was a distinct lack of gaiety. Returning from Baja on New Year's Eve I set about fixing this. Rather than a hostel in North Beach, I had a bed and breakfast near Castro.
The B&B, on 14th near Church, was unassuming from the outside, but was light and homely inside. First order of business was a long hot shower. After two weeks in which normality was a trickle of tepid water every few days, torrents of hot water felt amazing. Having emptied Hetch Hetchy, I went downstairs for an early evening gin & tonic.
Momentum was against me, following two nights sleeping on the Baja bus, and I opted to take a quick siesta. Inevitably I didn't wake up again in 2011. Party on!
New Year's Day was gloriously warm and sunny. I walked down to Delores Park and lay in the sun, people watching. San Franciscans may be effortlessly chilled, but their small dogs should cut back on the speed. They were running and leaping around with an uncalled for enthusiasm, especially on New Year's Day. One guy was wandering around rapping about The Weakest Link. He paused at one point to tell me he'd made a new year's resolution to give up pot. However, he said he was already finding it tough and asked if I had any papers. I hadn't.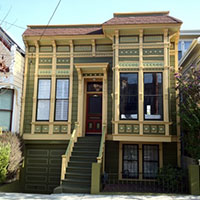 Having absorbed some sun, I decided it was time to check out the Castro. I headed up a deserted 20th street. Heading up really is an appropriate phrases here: there were stairs to reach the top. Once there it became apparent that the Castro was back down at the level I'd just left. The quickest route between two points in San Francisco is rarely a straight line.
Now in the Castro, I wandered around to get a feel of the place. The commercial area was smaller than I'd been expecting and I soon chanced upon the self-proclaimed Bearbucks. Except it was pretty much devoid of bears. It was New Year's Day, so perhaps they were still hibernating? Everything seemed pretty much as you'd get in a Starbucks back home, but I espied a green tea frappacino on the menu. It was pleasant enough, if rather too sweet. The crowd in the streets was older and more mixed than I'd been expecting. It could have been many other streets across the city. That is, until I reached the junction of Castro and Market, where a group of naked guys were reading newspapers and drinking coffee.
Many of my best experiences of San Francisco have been from atop hills. So I headed up Corona Heights to get a fresh view on the Castro and the rest of the city. Unsurprisingly there was a lot of dog exercising going on in the park. Bernie, a large white poodle seemed enamoured of me (or my bench). Every time his owner through his ball, he'd retrieve it and lie directly under me.
I pootled around the city on Monday, trying new coffee shops and riding the cable car. The most interesting drink I had was a red velvet chai tea latte. The berry, tea and white chocolate flavours worked better than I'd expected, but it was very rich.
I had missed Tree of Life in the UK, so finding it on at a local cinema, dropped in. It was both novel and enjoyable. If only more filmmakers would be this adventurous, at least occasionally.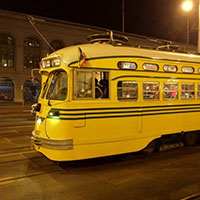 On the way back to my B&B I rode the F Line, which used old street cars from across the US (I think mine was from Philadelphia). The driver was very friendly, chatting to passengers about their day, getting up at traffic lights to admire a framed picture a passenger had just bought. I can't imagine this on a bus in central London. But then again, no one on the F Line seemed in a hurry to rush off anywhere. In the evening I checked out some local bars. The bars on Castro were friendly enough, but seemed to have their best years behind them. I had better luck around the corner from my B&B. Blackbird was a friendly cocktail bar with interesting drinks. I finished my evening with a Blackbird toddy.
Tuesday morning I went on a walking tour of the Castro. The tour looked at the history of the gay rights movement, as well as the origins of the area. I realised how little I knew, especially about Harvey Milk. It turns out he was shot a couple of months after I was born. On my shelf at home sits the film Milk, as yet unwatched (something I'll fix on my return). In these days of gay prime ministers it's easy to forget how recently these battles were fought.
For lunch I went to local diner. Having been in America a while, I thought was wise to the myriad of choices American dining requires. Breakfast is a particular minefield of egg and bready argot. I'd previously been caught out by biscuit (more a small muffinesque roll) and half and half (don't pour this liberally in your tea expecting semi-skimmed). I knew how I wanted my meat cooked, what sort of potatoes I wanted and that I would have salad rather than soup. "And what dressing will you be having with your salad?" Damn. I hadn't considered that. My waiter reeled off a huge list of dressings at speed, many of which I only had the vaguest inkling of… prairie pumpkin, honied reindeer, walnut mingled blue cheese surprise. I plumped for a safe choice in raunch.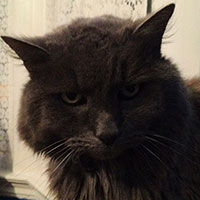 I've noticed a delight in certain locals when talking about the perils of the edgier parts of San Francisco (or god forbid, Oakland). It's not that you shouldn't visit these places you understand, there are great restaurants and bars, but they wouldn't recommend walking there after dark… it gets errr sketchy (a favoured word). I can't decide whether this is out of genuine concern for the safety of visitors, or because they need to remind themselves just how cool their city, and by association, they are. Tuesday evening I found myself walking through the Mission with tales of mentally unstable ne'er-do-wells ringing in my ears. The streets were quiet and I (unsurprisingly) reached Noisebridge without incident.
As a member of the London Hackspace I was interested in seeing the set up at Noisebridge. If you've not come across hackspaces before, check out hackspace on Wikipedia. A guy called Adam (I think) stopped working on his midi accordion to show me around. There was much in common with London, though more mushrooms. Having been given a banana and met Bosco (a tiny dog), I joined the weekly meeting. After introductions (many of whom had British accents), the meeting was rather dry. Membership expiration bylaws aren't the most exciting of topics, even with Tom's passion for subcommittees.
Wednesday I spent an hour battling the US Postal Service in an attempt to send my camping equipment back to London. With that fun out of the way, I did a bit of shopping in preparation for my trip to the Grand Canyon. In the evening I went out with Bonnie, whom I'd met on the trip to Baja.
We started in Blackbird. The bayonet was delicious. After Thai in the Mission, we met up with Glenn (also from the Baja trip) and looked for a bar. The nearest was overflowing with rowdy hipsters, so we continued to an Irish bar. This had Guinness on tap and a pub quiz, what could be better? Many things: the Guinness wasn't the freshest and the quizmaster mic kept cutting out, but we had fun all the same. Then it was off to bed as I had the LA train to catch first thing.
---
Tags: AcrossAmerica, California, Castro, Mission, Noisebridge, SanFrancisco, Travel, USA