---
Unreality
Part 1 of Across America, 09 Dec 2011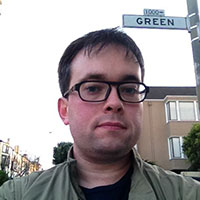 I got up at five-twenty, my body already in its own time zone. Two hours later I found myself at Acton Town without my sleeping mat (likely still on the bus) or a train to Heathrow. After what seemed like an eternity, actually around thirty minutes, a train finally dragged itself into the station and I squeezed on to it. I got to Heathrow with only a little time to spare… but needn't have worried: my flight was delayed.
Once on board, a glass of Champagne improved matters considerably; the tiredness fell away, if only for a short while. After lunch it was time to get some serious shut eye. Alas, I seemed completely incapable of sleeping. In an attempt to distract myself I browsed the entertainment, finding Game of Thrones. However, the cabin crew had an uncanny ability to appear whenever gratuitous sex or violence occurred (which was often). I'm just not used to being served tea and biscuits during scenes of incest.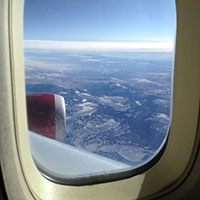 Eventually I gave up the pretence of sleep and opened the blind to find the Rockies. They seemed to go on forever, until the desert joined in. Miles of emptiness, snow and salt pan barely distinguishable from this altitude. Then I was on the ground. The Sun was shining. I was in California.
After the obligatory fingerprinting, I went to a shop to get a plug adaptor. A helpful woman recommended one, which included the delightful advice that "this product contains chemicals known to the State of California to cause cancer and birth defects or other reproductive harm". There didn't seem to be a option known to cause kittens and rainbows, so cancer and birth defects it was.
After the minimalism of Bart, the accommodation at Green Tortoise was friendly and colourful. I took a shower and found my eyes bloodshot, the bags under them more like sacks. Why did I seem incapable of sleep? I left the hostel to get some tacos, passing The Beat Museum, complete with a bath full of books and a guy outside proffering weed. I'd not slept properly for 36 hours and my hold on reality was beginning to slip a little. Was this San Francisco or just a cliché my mind had concocted?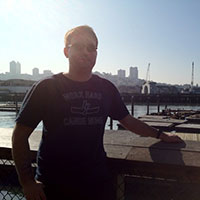 The next morning I was rather less unhinged. I met my dorm mates, most of whom were young Aussies with an appreciation for American beer prices. I was also introduced to a vinyl fetishist, but he turned out to be of the 45 RPM persuasion.
After breakfast I decided to be undecided, so set off in the vague direction of downtown. The streets were clean and mostly empty; no one seemed to be hurrying anywhere. I never reached downtown, hitting the port at Pier 1 instead. I found a eclectic mix of people: one guy seemed to be fishing junk out of the sea to add to his trolley, while some men in sharp suits discussed venture capital and tapped on Apple products. I headed along the coast, passing piers filled with heavy construction equipment in vast hangers. They would have made a great set for Bond: he could fend off a huge digger with some deft fork-lift manoeuvres before escaping to Alcatraz in a speed boat.
Then touristville struck: I'd reached Pier 39. While it was full of the usual tourist tat, it did have the compensating virtue of sea lions. There were plenty of sunny pontoons to choose from, but the lions had squashed themselves onto a handful. Every time one moved, its neighbours would let out raucous cries of indignation.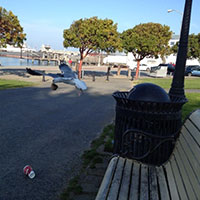 After a decent lunch of clam chowder in sourdough, I popped into RadioShack to pick up some cheap headphones. A few weeks earlier I'd bought some nice Etymotics. Every time I buy decent headphones they suffer an ignoble death: the previous pairs had been crushed in a car door and drowned in the bath. This time was no different; I had managed to snap the connector in my airline seat on the flight over.
I continued along the coast to the Maritime Park, where hardier souls than I were swimming around the bay. Sitting in the park I was joined by a gull that deftly removed a Starbucks cup from the bin, but was unable to open it. Next I walked to Fort Mason, which had the expected good views of the Golden Gate Bridge. More unexpectedly there was a beautiful community garden. It was a tranquil space, with lemon trees, great views and hummingbirds. I tried to photograph them, but my lens was no match for their size. I don't know how they manage to pack the machinery of life into such a tiny body.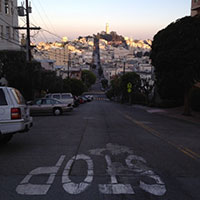 I wandered inland for a while until a hill appeared out of nowhere. I decided to climb it. I'm glad I did, the views across the city near sunset were quite special. The streets were mostly deserted until I came to Lombard, where a large group of people were blocking the road, to the resigned annoyance of local drivers. Why a few hairpin bends should be so fascinating is beyond me; the opposite view across to Coit Tower (pictured) was much more impressive.
Heading back down the hill I hit a street called Green and couldn't resist a photograph (see above). Back in the hostel I went for a shower and all was good. Then bam I got a migraine. One minute I was fine, the next someone was attacking my frontal lobes with a pickaxe. I knocked back some pain killers and tried to chill. We had Mexican food for dinner and I chatted to a few people while my head gently thrummed. These things never lasted; I was confident it would be gone in the morning. Assuming I ever got to sleep.
PS. When I went to write this post someone remarked "I'm in San Francisco, but my blog is still in Vancouver". I shall endeavour not to succumb to this disease.
---
Tags: California, AcrossAmerica, Flight, SanFrancisco, Sleep, Travel, USA