---
International Orange
Part 2 of Across America, 12 Dec 2011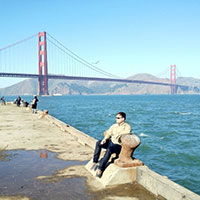 I awoke on Thursday to find the headache still with me. New guys had arrived in the dorm overnight with a tonne of luggage: snow boards, laptops, cameras, clothes for every climate… how they actually managed to carry it all was a mystery. At the other end of the scale I used the cutest, tiniest, frying pan to cook a couple of eggs for breakfast. Must buy one when I return home.
The plan for the day was to visit Alcatraz with some friends I'd made in the hostel. We detoured to take in the Coit Tower, which I had seen from afar the previous day. It meant another steep climb. What with all the hills, I remarked that everyone in San Francisco must have great legs, "and terrible knees" someone shot back.
We reached the front of queue just as Alcatraz trips sold out for the day. So we wandered along the shore, past an assortment of characters. After a generous burger (as if there was any other sort here) for lunch we visited the USS Pampanito, a WWII submarine. The Pampanito was wonderfully mechanical: dials, levers and gauges festooned every surface. Typewriter keyboards and battle telephones completed the steam-punk feel. The engineering that must have gone into it was amazing.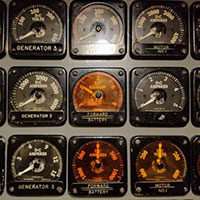 Thursday night I finally got a decent night's sleep (apparently while my dorm mates were partying around me). Friday morning and the headache was almost gone, almost. After an early breakfast it was time to grab some bikes with a couple of guys from the hostel: Nick from Brazil and Johannes from Germany. En route we passed people exercising in the park, one guy with a large sword (no idea how sharp it was).
We cycled along the coast towards the bridge. Nick stopped every few hundred metres to take photographs. He was like an excited puppy in a new park. Should anyone wish to construct another Golden Gate Bridge, they need only look to Nick's photos. The sea lions paid us a visit at Torpedo Wharf, then we headed up the steep, but mercifully short, trail to the bridge. Two things stick in my mind from cycling over the bridge: the elegance of the design up close and signs that read "There is hope. Make the call".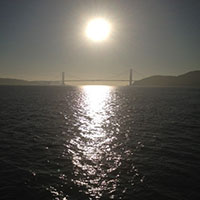 On the far side, the road descended steeply to Sausalito; I'd forgotten how much fun it was to cycle down a long hill. Once at the bottom I relaxed with a panini and large ice cream. It wasn't difficult to decide to take the ferry, rather than cycle back up that hill. The Sun was low as we crossed the bay, lining up perfectly above the Golden Gate (pictured).
Back at the hostel I met an Australian called Richard and we decided to try out Siri. In the UK and Australia, Siri can't do much as it doesn't know about local businesses. I set my language to American English and gave it a go, asking for information on bars. Siri responded with information on "taxi (car) firms" then "ball suppliers". I tried a comedy American accident and lo, it worked every time. So you can use Siri here, provided you're prepared to insult nearby Americans by mutilating their accent.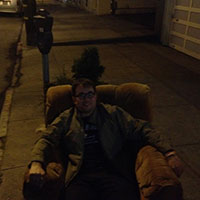 It was a free dinner night at the hostel: the oh-so-specific "Asian" curry. Then out to some local North Shore bars. Other than obligatory ID checks everything was very relaxed. The first bar was packed with screens showing sports and weird adverts: "Order a free sample of the SuperCatheter™ from 1-800-SUPCATH today!" Perhaps you could use it to "drink" intravenously?
The second bar, Grant and Green, had live music from Posole (or some such, I can't find the band online). The guitarist was damn good and there was also some nice trumpet. The third bar lacked good music, but made up for it by having deals on real beer, the stuff with flavour, like Anchor Steam. At some point in the evening I found an armchair in the street (pictured) to relax in for a few minutes.
Saturday morning I missed breakfast and felt a little worse for wear. But at least I wasn't sleeping with a box of pizza (unlike Nick). I decided I needed some serious brunch, so ambled down to Dottie's. Along the way many locals were out walking their dogs. One lady had two tiny dogs, all dolled up with bows. They were suffering from chronic happy tongue and seemed determined to strangle themselves by pulling on their leads as hard as possible.
I joined the queue at Dottie's behind a loud, extremely bossy, American woman. Her husband was asked to get things out of her bag, put them away, get them out again, remind her of her diary for the week… There were a few guys begging for money. She shooed them away, telling everyone within a block that while there might be undesirables outside, it was fine inside. At this point a member of staff appeared from inside the restaurant "This is Saul your maître d'" the loud woman boomed "Everyone should do what he says." Saul gave her a withering look and carried on asking if there were any singles. I realised with amazement that escape was at hand and raised my hand. Saul whisked me off past the entire queue and inside the cafe. Loud women wasn't impressed. I was warming to the place already.
Inside I perched on the corner of the bar, with the chefs hard at work in front of me. Within seconds an extremely friendly waitress had filled my cup with coffee and supplied me with a menu. I opted for the Open Road with scrambled eggs, Italian sausage, pancakes and grapefruit juice. It was all excellent, but I have to call out the pancakes. They were simply awesome: perfect texture, a hint of cinnamon and a river of maple syrup.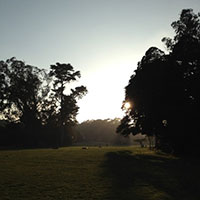 Thus (over) fortified, I headed towards Haight Street. At Union Square a mathematically perfect cone of a Christmas tree (photo) had pride of place. Not at all like the one in Trafalgar Square (photo), back in London. I could try to make some astute cultural observation here, but I'm not awake enough for astute, so I'll just mention that even the fire trucks had festive wreaths. Not content with decorating their city, a large number of San Franciscans has dressed themselves (and their dogs) in full Santa regalia. SantaCon had come to town.
Having walked a good few miles, a sign for Belle Vista Park caused me to stop and investigate. It lived up to its name. There were a few people at the main view points. Mostly they stood in silence, looking out across the city.
After buying a book and a couple of t-shirts, I reached the end of Haight. Entering Golden Gate Park, I was just in time to catch a few minutes of magical light before the Sun sank below the cloud (pictured).
Sunday was mostly quiet, though I did see a minor fight break out following the Giants vs Cowboys game. The SFPD were on the scene impressively quickly. The perfect weather also came to an end, with some cold rain that reminded me of London. This is only my fifth full day here, but the UK seems far away in time, as well as distance.
6am start Monday: I'm off to Yosemite.
---
Tags: AcrossAmerica, Beer, California, Cycling, GoldenGateBridge, Pancakes, SanFrancisco, Travel, USA