---
The End of Summer
Part 14 of Across America, 12 Apr 2012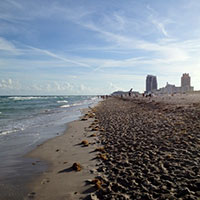 It was late January. The Sun shone. The beach ran to the horizon. The Atlantic sparkled invitingly. I was on Miami beach and I had crossed America.
The previous evening I'd flown into Miami and taken a bus to Miami Beach, which I was surprised to find was a completely separate city. Arriving at the hostel, my driver had said "I don't know how anyone sleeps there". Looking at the boisterous party spilling onto the street, he had a point. But I was more than tired enough; no party was going to stop me passing out.
Some time around noon the next day I awoke. This was my first chance to properly take in my fellow travellers and it was immediately apparent that they were quite a different species from those on the west coast. The guy across the bunk from me had half a dozen white suits. White suits. Everyone seemed to be trying to "dress nice". I didn't look "nice": my clothes looked like I'd walked around the World in them at least twice. Speaking to people at lunch I found them full of energy. They were here to party, to get onto guest lists, to buy expensive cocktails, to ride in limos, to mingle with celebrities. I'd come to do as little as possible and lie in the ocean.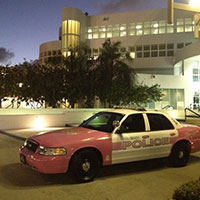 I ambled along Washington Avenue. One shop offered both "Occupy" and "Greed is Good" t-shirts. Gordon Gekko wins! Once I had some flip flops (being sure to choose the ones that didn't make my feet bleed this time), I had everything I needed to do nothing.
I had feared the beach would be an overcrowded nightmare: sun loungers packed millimetres apart and thousands of children getting sand everywhere. It was late January after all, and nowhere else in America could boast a sunny 27ºC and warm sea. My fears were unfounded: the beach was huge. There was plenty of space on the sand for everyone, but it was the ocean that called to me.
I checked the flags at one of the numerous lifeguard stations. They were yellow and purple. The yellow one indicated a medium hazard from the surf and currents. The purple flag warned of dangerous marine life of an unspecified nature. The bather's imagination can be a creative thing, and I soon had sharks, jellyfish, crocodiles, and a kraken swimming through my mind. At this point I could have asked a lifeguard, but as several people were swimming unmolested by toothy creatures of the deep, I decided to man up and face the unknown peril. The water was great, warm enough to stay in, yet cool enough to be refreshing. The waves were fun-sized, playful without the malice of large breakers. In the several days I was there, the nearest I got to mild peril was a small dead jellyfish.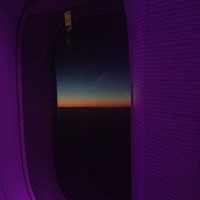 In the evenings I didn't venture to the clubs, but went to the cinema instead. You could have a drink, then walk to a late show in your shorts, past the palm trees and the beachfront from Scarface. One of the films I saw was The Iron Lady. Meryl Streep's performance was impressive, but the film had almost nothing to say about Thatcher's politics. You could reduce the political angle to "she was tough woman who succeeded in a man's world". When she gave the American ambassador a verbal slap for suggesting that the Falklands were some insignificant islands miles from anywhere, there was a cheer from the Americans behind me. I could see this film going down well with the Tea Party set, but it left me unmoved. The fact I couldn't get that Hefner song out of my head didn't help (# ding dong the witch is dead, which old witch, the wicked witch).
After a few days of sun, sea and cinema, my time was up. There would be future journeys and new summers, but home is where I wanted to be. I needed to return to the winter, to the comfortable chaos of London.
---
Tags: AcrossAmerica, Beach, Film, Flight, Florida, Miami, MiamiBeach, Travel, USA