---
Busy Doing Nothing
Part 11 of Across America, 22 Jan 2012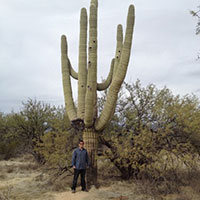 It was Tuesday 10th January and I was in Flagstaff. Confident in Google Maps I walked along nondescript backstreets to the Greyhound Station. I arrived to find a notice telling me the station had moved to the other side of town. The details I'd copied from the Greyhound web site had the new address, but I'd not bothered to check them. You know how you laugh at those people who blindly follow their sat nav… I may not have driven into a river, but I did feel a little foolish. At least I'd packed light, so it wasn't too much trouble to walk a couple of K to the correct address.
At the Greyhound station I bought a ticket for Tucson and considered the lunch options; my earlier crosstown detour had cost me the chance to visit downtown. The was usual selection of unhealthy snacks common to transport interchanges the world over. I settled for a packet of crisps and a can of low sodium V8 (at least I wouldn't exceed my recommended salt intake in one snack). I sat out in the sun and waited for the bus. January in Flagstaff should be snowy, but only the snow on the San Francisco Mountains gave support to this. I soon got too hot and retreated to the shelter of the station. Soon enough the bus pulled in and after the existing passengers made use of the facilities, I boarded.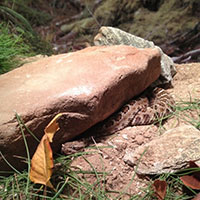 Most of the Americans I'd spoken to about Greyhound advised against it. The favoured cautionary tale revolved around recently released prisoners, who seemed to constitute the entire ridership. If I absolutely had to board these wheeled dens of criminality I must on no account sit at the back. I pictured Dante's circles of hell, those guilty of misdemeanours (a word favoured on many an American legal notice) at the front, while serial killers and money lenders investment bankers filled the back seats. The bus was almost full when I came to board, what was I to do?
Are the swarthy masses of unwashed scum going to play five-finger fillet with our plucky traveler? Or will they get straight down to the gruesome killing? Find out in the next enthralling paragraph…
I sat down in front of a family with two young children. Other than the occasional bashing of my seat by a bored child, the journey passed peacefully. I even got a little sleep in my narrow seat as we descended into the desert. When I opened my eyes, the snow patches and pines were gone and the cacti were at large.
The bus terminated at Phoenix. The station was large and somewhat chaotic. There was no departure board, just some destinations printed above doors. Tucson was among them, so I sat down to wait with CNN to keep me company (the one other TV was showing tacky Mexican soaps). Results of the New Hampshire Republican Primary were imminent, so at least there was something of substance to cover. The guy sitting next to me asked how it was going; I guess his sight wasn't so hot. I answered and he asked if I was Canadian (and I hadn't said aboot, I swear). He wasn't deterred by learning my origins and told me he was returning from visiting his brother in Arkansas. As he lived in Oakland this was a big commitment: two days (and nights) on the bus. CNN ran out of material within five minutes. Rolling speculation filled the next hour. Finally a precinct announced a result to add to the six Republican votes from Dixville Notch. It was only a few hundred votes, but Romney held a significant lead.
Before rolling news completely addled my brain, it was time board the bus for Tucson. This bus was run by Crucero, a Mexican subsidiary of Greyhound and almost all the passengers were Mexicans headed for Nogales. I later learnt that Greyhound had been bought by FirstGroup, who provided the crappy trains I took to work in Maidenhead and are based in Aberdeen, where my Gran was born. The odd things that connect the world together.
It was quite late when I reached Tucson, so I took a cab to the hostel. The cabbie was friendly, but seemed incapable of finding 12th street (you'd think numbered streets would make it obvious). After a driving in circles for a while (with the meter turned off) we made it. The hostel was small and friendly. I soon found myself on the sofa watching the cringe-making The Yes Men with a guy from Yeovil. The combination of VHS and a 60" TV gave the whole thing a slightly trippy crayon look.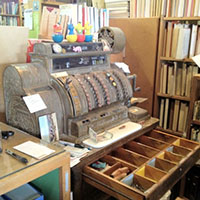 After five weeks of travel it was time to take it easy and Tucson turned out to be just the place. I spent the following five days wandering from cafe to cafe, stopping in the odd bookshop and being amazed by the number of tattoo parlours. My favourite bookshop was a secondhand shop on 4th Avenue. I picked up an old Asimov for a couple of bucks and admired the ancient cash register. I ordered an Earl Grey in a cafe and was asked if I wanted it hot. Now I know how Captain Picard feels.
The original reason for coming to Tucson had been to spend a night at Kitt Peak Observatory. The day before the night of astronomy the cloud was dense and it even rained (to the excitement of some of the locals). No galaxy gazing for me. Tucson was likeable enough that my disappointment didn't last.
On my final day I joined Gerry and Miranda (from Brighton) on a trip to Saguaro National Park, courtesy of Cynthia. It was overcast, but still warm on the desert trails. The saguaros were unsurprisingly the stars of the show. There was almost no animal life to be found, other than a few birds. We did see a creature that looked like a chipmunk and Gerry found a few tiny ants after scouring the plants.
Sunday night my relaxed stay in southern Arizona came to an end. I was back on the Amtrak waiting for the 2am departure to San Antonio.
PS. The rattlesnake wasn't wild, I found it in Arizona State.
---
Tags: AcrossAmerica, Arizona, desert, Greyhound, Tucson, Travel, USA