---
Beat Me
Part 4 of Across America, 17 Dec 2011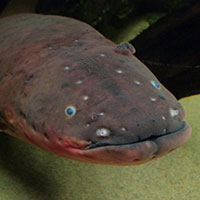 Wednesday was a lazy day. I was still hungover from the experience of Yosemite, so didn't leave the hostel until lunch time. I picked up a red snapper sandwich and watched the ice skating in Union Square. Bored of the smart chain stores, I decided to walk through the tunnel on Stockton. It was a portal to Asia. On the far side there was barely a Caucasian face to be seen. The street had a bustle and energy I'd not seen in San Francisco. Boxes of loose dried shrimps and mushrooms overflowed onto the pavement. Then as suddenly as it had began, it was gone and I was back on Broadway with offers of women with too little to wear.
In the evening it was burritos and beers in the hostel. There was a fair amount of discussion on the evils of governments and large corporations. Greg, warming to the topic, let us in on a secret conspiracy to top them all: there were dragons in the Alps. If this ever became common knowledge, the worldwide conspiracy would collapse. This vaulting leap left the 99% behind. No one seemed sure what to say. It was clearly time for another beer.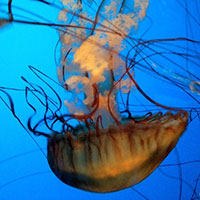 San Francisco's travel options can bewilder the unwary, like those who may have had a few too many Boonts the night before. Where was the N line? The F was trundling up and down, but nothing else. It was underground of course! Like some nocturnal beast, it only came to the surface in downtown at night. Once this fact was grasped, Johannes and I made it to the California Academy of Sciences without too much difficulty. It was an interesting, if rather pricey, natural history museum, planetarium, rain forest and aquarium in one. Seeing the feeding of the black tip reef sharks reminded me of the Maldives.
I'd not had pizza since arriving in the US, so decided to seek one out. I was staying next to the myriad of Italian restaurants in North Beach after all. With a little assistance from the Internet I settled on Tony's. Almost as soon as I left the hostel, I was stopped by a police officer warning me not to step on part of the street. In the low light it looked like a stream of blood, but was turned out to be slippery transmission fluid. Tony's was full, so I had to return later. When I did get my teeth into a Barcelona pizza, it was worth the wait.
Friday morning brought the horror of packing. I didn't bring much, but it had still managed to balloon to several times it's original size in my locker. My possessions wrestled into submission, I walked a stone's throw to the Beat Museum. I knew next to nothing about Kerouac or the Beats when I entered. On leaving I'm still not sure I understand. This isn't due to a flaw in the museum, but rather the difficulty if expressing such a thing with exhibits. I have a copy of On the Road to read in Mexico. Perhaps I will have a clearer idea when I return.
Postscript
In a few minutes I'll be boarding the bus for Baja. I won't be back in San Francisco until the last day of 2011. I hope to find time and bandwidth to blog while I'm away, but who knows.
---
Tags: AcrossAmerica, Beatnik, California, Pizza, SanFrancisco, Travel, USA